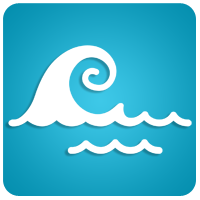 Tide Alert
From adventure seekers who enjoy fishing, kayaking, boating, surfing, sailing, birding and tide pools to those who love walking their dogs to the beach, Tide Alert is the perfect iPhone companion for your needs.
Access to thousands of tide stations (same as TideTrac) across the United States coastal regions.
Today widget to quickly access tide info from the notification center.
Tide Alerts with custom local notifications.
Integrated Moon calendar for those who enjoy fishing and related activities.
Sunrise, Sunset, Moon rise and Moon set information to plan your day out.
A single chart showing high and low tides for an entire month.
Add stations to favorites.